How to reserve your puppy?
You have fallen in love with one of our baby Pyrs? You are right, they are beautiful dogs. But do not forget to read our article Does this breed suits you?.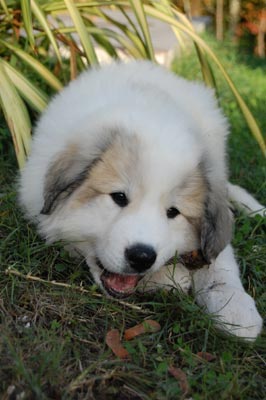 Contact us by phone at +33 6 37 68 83 66 or +33 2 31 21 91 88 or via email to receive all the necessary information concerning the Pyrs puppy that you wish to purchase.
To confirm your reservation, a deposit of 400 €, by check or by bank transfer, is required. It is only at the receipt of the deposit that your puppy actually will be reserved.
Regular attendance at dog shows in France but also abroad allows us to evaluate the growing quality of our dogs in order to improve our knowledge. Our weddings are picked out with care which helps us to choose the future stallion.
Following documents will be given to the owners
The health certificate
European passport
Contract of sale
The Puppy's guide.
A kit containing 2kgs dry puppy food and a small bowl.
The puppy's guide contains advice for future buyers:
Food and quantities depending on the age of the puppy.
Health recommendations: when to deworm? Recall of vaccines at 3 months etc..
Some advice on education, developed by the Breed